Pastry & Bakery technology
Your cool partner for the bakery, pastry, Ice cream and pizza sector.
PaBaTech products have been designed and developed for all craft and professional laboratories from small to large food industry
Specialized solutions to control the temperature
Innovative and reliable made in Italy coldrooms and refrigeration units for every need
THE MOST LOGICAL FORM FOR YOUR COOLING NEEDS
BLAST CHILLERS & DEEP-FREEZERS
Is a technology that uses the well-known preserving properties of refrigeration to maintain food hygiene and safety unaltered over time without affecting quality. Line Polaris proposes different solutions of roll-in deep freezers for large quantities. They are available with a front door for inserting the product and on request all models can be fitted with double door for a pass-through production cycle.
Simple electronic console that allows quick access to pre-set programs and cycles
Management of blast chilling (+ 3 ° C) or deep freezing (-18 ° C) cycles both by time and by temperature, by controlling the temperature at the core of the product
42 Kg/m3 polyurethane foam insulation.

Coolants in line with the ozone protection regulations and use of refrigerant R744 (CO2)

Manual or automatic hot gas defrosting
The air circulation is designed to ensure the best uniformity on the product and prevents thermal shocks
For big quantitites, Pabatech proposes roll-in deep freezers.
Spiral Freezer, a new motorization system suitable for:

Every temperature range from -40°C a +120°C

Every process from cooling to freezing, from leavening to retarding.

Every product: bread, pastry, pizza,milk and bakery products, packed or unpacked goods, loose or on pans.
Automatic programmed proving designed for pastry, pizza and small-sized bread.Working temperature -10°C / +40°C.
Innovative technology (Program Leaving Controller ONE)
The range foresees external and internal coveringsin stainless steel AISI 304, external in PVC- coating and itneral in Stainless Steel Aisi 304 or completely in PVC- coating galvanised steel.
Compact structure with insulation in high-density ozone-friendly polyurethane foam (42Kg/m3), thickness 60 mm, to ensure an effective insulation with the least energy consumption.
Refrigeration unit suitable for tropical conditions, with high-capacity components and low energy consumption, for specially hot environnements (+40°C).
Humidification system with built-in steam producer, suitable for continuous proving.
Up to 4 doors with removable entry ramp.
Clima Chambers for Sourdough
Our line of Benches, Cabinets, Coldroms for mother dough allows the control of the maturation of bulk dough pieces, always guaranteeing an optimum raw bread dough for the preparation of final superior products, at variable environmental conditions.
Ice Cream and Gelato Line
After the exit of the ice cream at -6 ° C and before the sale at the refrigerated display counter, you can use:
Multifunctional Modular Freezers at – 40°C: allow a quick surface hardening in 8/10 minutes. Sale must be effected in a short time.
Blast Freezing in 50/70 minutes the core temperature of ice cream reaches -18°C.. Preservation in an upright freezer at -14°C for max. 5-6 days or in a freezer room/upright freezer at -22°C up to 6 months.
Powered Upright Freezer with air conveyor , cabable to freeze the surface, bringing the product temperature to -14°C or to -23° C (at -23°C preservation can last up to 6 months).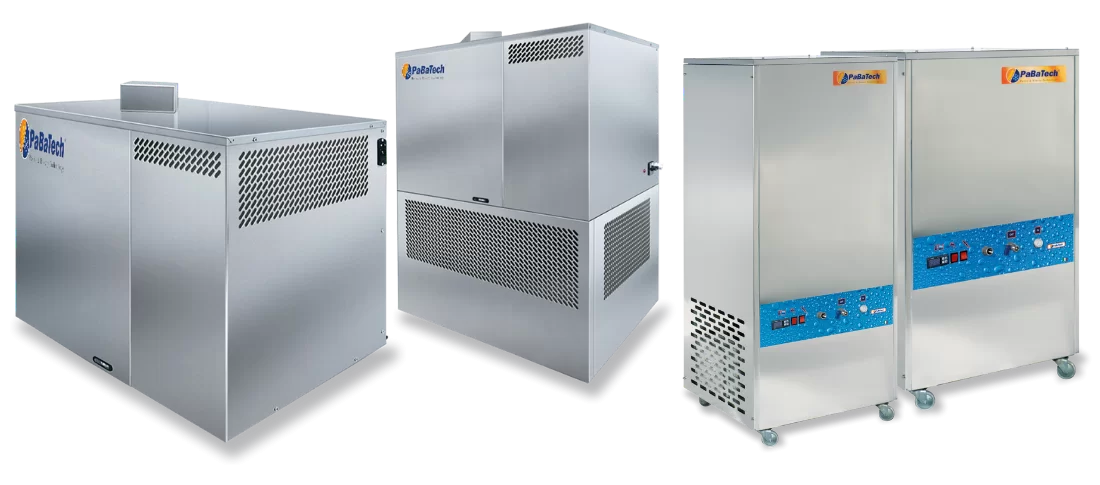 WATER CHILLERS AND DOSERS
They are designed to decrease quickly the water temperature from +18°C to +3°C, required by the doughs to make the following working processes easier
Completely built in stainless steel Aisi 304
Powerful compressor operated by refrigerant R452a
The temperature control takes place through a digital thermostat, while the uniformity of the water temperature is guaranteed by the circulation pump, that prevents ice formation.
The range of chillers series Acquario is completed by installation of the metering unit
Special Quick Water Chillers Series QUARTZ RRCN
Water Chillers Series ACQUARIO RDA
Refrigeration technology applied to the art of baking
With the innovative Touch Screen Controller you can manage automatically the phases and cycles in progress according to the type of product and with an instant and easy control of all the functions.
PaBatech makes your life easier
50 years of experience in the cold chain sector have made us your ideal partner for your kitchens and shops.
PaBaTech is a specific line designed and produced by Frigor-Box International srl, a world leader in the creation of panels for cold rooms with dry joint system and cam locks.